2021. Sep. 18. Saturday, 19:58
FTC - Telekom Veszprém 27-30
Veszprém fans had a reason to be happy even before the game has started: Rasmus Lauge returned into the starting lineup following his long injury. However, Ferencváros started the game better, Marián Zernovic produced many excellent saves. After the first timeout of Momir Ilic in the 11th minute Veszprém could come back into the game (8-8), but in the rest of the first half Ferencváros were dominating again, and had a four goal lead at the break (16-12).
Momir Ilic made many substitutions in the half time: Omar Yahia, the hero of the match against PSG returned to the court, among others. However, the home team put on a solid performance and could still hold onto their lead until the 52nd minute, when Manuel Strlek scored after a fast break. Only two minutes later Momir Ilic had his second timeout of the game. In the dying minutes of the game Telekom Veszprém took the lead following another goal by Manuel Strlek and this time they could hold onto it until the end (27-30).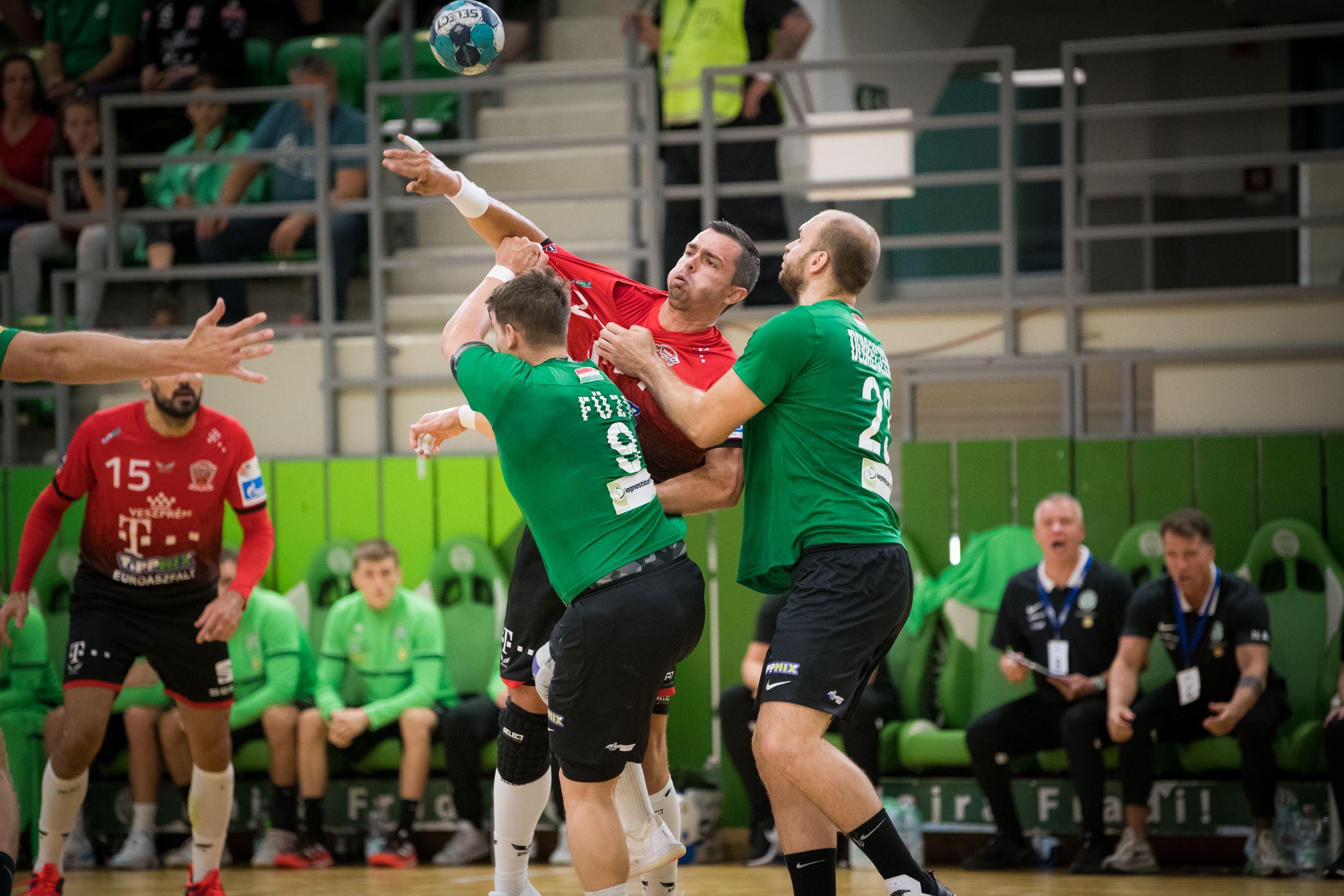 FTC - Telekom Veszprém 27-30 (16-12)

FTC: Győri, Zernovics – Turák, Tóth, Bognár, Fűzi 3, Nagy 4, Ónodi 4, Imre, Pordán 3, Denreczeni, Andelic 5, Prainer, Mikita, Bujdosó 6, Kovacsics 2.

Telekom Veszprém: Cupara, Mikler – Manaskov 2, Yahia 5, Maqueda 2, Nilsson 2, Ligetvári 5, Lauge, Strlek 3, Lukács 2, Blagotinsek, Mahé 1, Ilic 3, Dörnyei, Lékai 4, Sipos 1.

Hétméteresek: 7/2 illetve 6/3
Kiállítások: 4 perc illetve 6 perc
Momir Ilic:
– First of all, congratulations to Ferencváros! We knew they are an excellent team, we knew it was gonna be a tough game, thats why I asked the boys to give their best. I know that it's hard to play only 48 hours after the PSG game, but this is professional handball.
Attila Horváth: – Congratulations to Veszprém for winning the game, and congratulations to Fradi for playing very well. We made a few mistakes in the second half, but altogether we played really well against one of the best teams in the world. A young team like ours cannot play without any mistakes, but still we very really close to suprise our opponent. All in all we made our fans proud, congratulations to Fradi.

Zoran Ilic: – Congratulations to Fradi! We knew it was going to be a tough game, but we had a rough start and we were chasing our opponent almost the whole time. In the second half we could improve in defense and our goalkeeper made some important saves, this way we could turn the game around.

Dávid Debreczeni: – It is never disappointing to play a close game against Veszprém, although we could have won with a little more luck. They played a bit smarter in the end, but I'm happy with could keep up with them throughout the whole game.
Next match
Champions League
Dinamo Bukarest
Telekom Veszprém
Oct. 28. Thursday, 18:45
Last match
Hungarian league
Telekom Veszprém
36
Balatonfüredi KSE
29
Oct. 24. Sunday, 17:30