2014. Nov. 18. Tuesday, 07:47
HC Vardar Skopje - MKB-MVM Veszprém KC 23:24
RK Vardar Skopje - MKB-MVM Veszprém: 23-24 (11-13)
Vardar Skopje: Sterbik – Karacic 8 (1), Dibirov 4 (1), Toskic 3, Brumen 3 (1), A. Dujshebaev 2, Gorbok 1, Shishkarev 1, S. Stoilov 1
MKB-MVM Veszprém: Mikler – Ilic 6 (2), Zeitz 5, Chema 4, A. Nilsson 3, Ugalde 3, Schuch 1, Sulic 1, Marguc 1, Terzic, Lékai, Iváncsik, Ruesga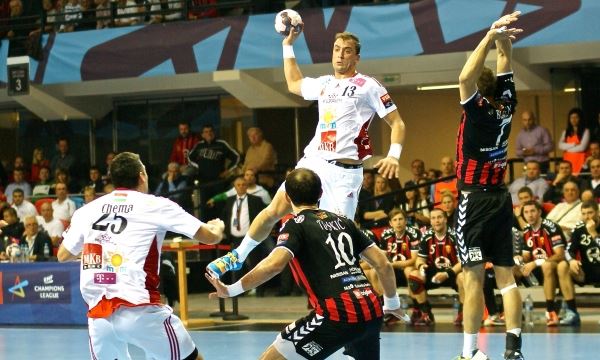 Raul Gonzalez: I congratulate Veszprém for the victory. At the beginning of the game they were much better than us they defended good and scored many easy goals. In the second half we already played better, due to Sterbik and our fast breaks. At the end we had a great chance to win, but we lost under disastrous circumstances. I think we did a great job this week and from now on we have to prepare for the return match next week.
Stojanche Stoilov: Congratulations Veszprém! It was a good match, which we could have won, but in the end we have lost under unfortunate circumstances.
Antonio Carlos Ortega: Firstly I congratulate the Vardar we played a superb match with them. It is an incredible feeling to play in this arena, but very difficult at the same time. We were lucky in the end, because the chance for the victory was in hands of the local team. The match was about defense, as we have previously expected. Under the match we had a few problems, so we had to try many variations. We put up a good fight to a finish, for that my players are to be praised.
Schuch Timuzsin: I congratulate both teams, it was a fantastic match, I am very happy. We played in a fantastic atmosphere. Our defense was excellent, Mikler sensationally kept goals. At the beginning of the second part we made some mistakes and the Vardar took the advantage of those situations.
Next match
Champions League
Dinamo Bukarest
Telekom Veszprém
Oct. 28. Thursday, 18:45
Last match
Hungarian league
Telekom Veszprém
36
Balatonfüredi KSE
29
Oct. 24. Sunday, 17:30