2021. Jul. 28. Wednesday, 14:59
I want to be a real asset to the team!
As we reported earlier, we have signed a 2-year contract with Adrián Sipos, the Hungarian national team forward.
In his first interview with our club, we talked about his years in Veszprém, his first few days in the youth team, his experiences and many other things, as well as his plans and goals.

Get to know Adrián Sipos, the line player of Telekom Veszprém!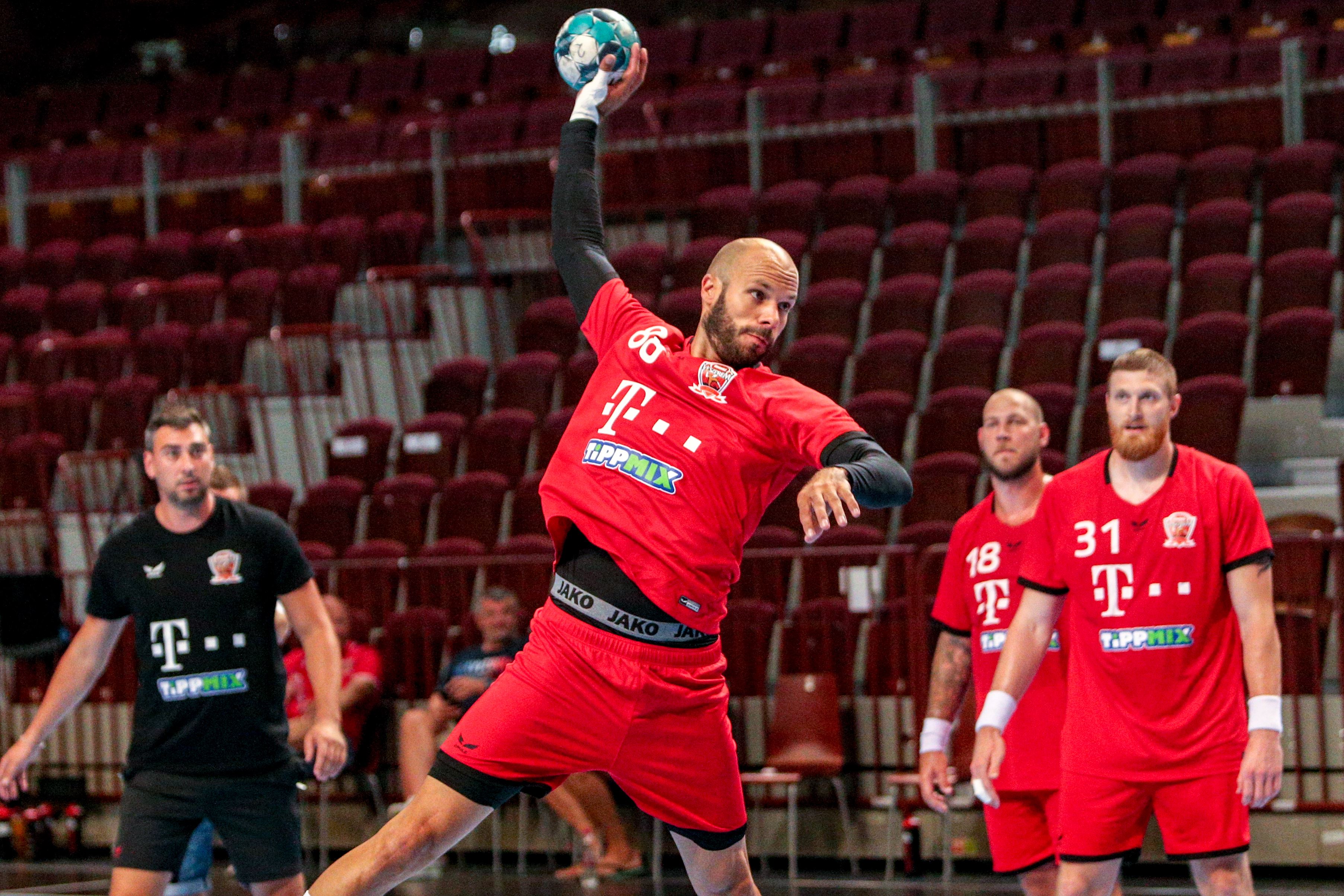 Adrián, welcome to Veszprém! How does it feel to wear the Veszprém jersey? How were you received by your teammates?

Thank you very much, of course, it is a special feeling, but I am looking forward even more to putting on a proper match jersey. My teammates have been very welcoming, they have been great and helpful, there is a really good atmosphere in the team. I like the Arena, the team, the organization, everything.
Did you ever think you would play for Veszprém?

I started playing handball in Szombathely, where I played for four years, and then two years in the Veszprém youth team, between 2008 and 2010. I started with Mr. Sándor Kaló, then I played for Ifj. Szilárd Kiss before I left. It is true that a few years have passed since then, but for me it was a dream come true to play here. Every handball player would like to play for a top team, but Veszprem, if you can call it that is one-step higher on that shelf.
You played for Tatabánya for years, how do you look back on this period?

First and foremost, I thank them for everything, because what I got in Tatabánya, what I developed, what we achieved, is all our common success. They have given me a lot, and the fact that I can play here now is also due to their work and effort. I am grateful for that. I could mention my former teammates, coaches, everyone I worked with during this time. I spent five years in Tatabánya, the longest period I have ever spent with a club in my life as a handball player, and perhaps this is the best proof that we had a really good relationship.
What did you think when you got the offer from Veszprém? Did you consult anyone else in the decision?

My manager called me a couple of weeks ago with an offer from Veszprém, of course I was very happy with the offer, I didn't take too long to decide. I discuss these things mostly with my close family, my wife, and of course, after it became public, I asked my friends for their opinion. They supported me as much as possible, because they know me, they know that I want to play at the highest possible level, they know my ambitions and my dreams. The two clubs worked a lot on the cooperation, I thank them for that and of course, especially Tatabánya for making my transfer possible. It was a day or two before the season-opening dinner that I was sure I was coming, so I arrived in a hurry, so to speak, but now I am here and ready for the challenges ahead.
What do you expect from the period, tasks and challenges ahead of you in Veszprém?

My strength is mainly in defense, I can help the team the most in that, but in Tatabánya, for example, I also attacked a lot last season. Patrik Ligetvári and I played a lot together in the national team, in a middle position, but Blagi and everyone else will quickly get used to each other, I'm sure of that. Of course, at a club like this, you want everything; an athlete always raises the bar higher and higher. What is important is that I want to be of real use to the team, the tasks that the coaches have given me, I want to do them to the maximum.
What would you like to say to the fans in Veszprém?

First of all, welcome to everyone, and I look forward to the full house matches! I have been to several Champions League matches here and I know what kind of atmosphere the fans in Veszprém can create. I am looking forward to being on the pitch with the team in the red jersey and experiencing the ecstatic support they give the team. We will do our best to get the best results, I am sure of it. We want to please them. Let's go Veszprem!
Thank you Adrián! We wish you to achieve your dreams in the red jersey and have many happy moments on and off the pitch in Veszprém!
Next match
Champions League
Lomza Vive Kielce
Telekom Veszprém
Sep. 23. Thursday, 18:45
Last match
Hungarian league
FTC
27
Telekom Veszprém
30
Sep. 18. Saturday, 18:00