2013. May. 23. Thursday, 07:15
Pick Szeged - MKB Veszprém KC 24:26
PICK SZEGED–MKB VESZPRÉM 24–26 (11–15)
Referees: Dobrovits, Tájok
SZEGED: Mikler, Prodanovic 1, Ancsin 3, Czina, Blazevic 6, Zubai, Kekezovic.
Substitutes: Tatai (goalkeeper), Sulc 4, Larholm 3 (2 from 7m), Vadkerti, Balogh Zs., Pribanic 2, Buday 4 (3), Lasica 1
VESZPRÉM: Fazekas, Gulyás 2, Nagy 3, Császár 2, Sulic 1, Terzic 1, Ugalde 5.
Substitutes: Borbély (goalkeeper), Schuch, Tamás Iváncsik 6 (5), Oneto 2, Laluska 1, Jamali 2, Gergő Iváncsik 1
Suspensions: 6, and 12 minutes
Penalties: 7 (given)/5 (goal), and 7/5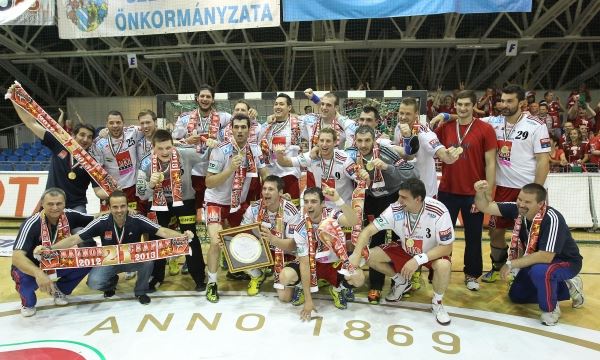 László Skaliczki -head coach of Szeged: We were inexperienced and we were doing stupid things, so we lost the game today. We could come up with only this performance today, and in the season too. The motto of the year could be named as The Year of big willings and big moans. Congratulations to Veszprem, they won the Champion title deserved.
Nándor Fazekas -goalkeeper of Veszprem: Team-building is in its correct way. We improved a lot in the season. Of course, there are things for correction, but we will do everything in order to be much better in the next season. It is not easy to win in Szeged, today we did it, because we were more lucky than the Szeged, which struggled well.
László Nagy – captain of Veszprem: It was difficult, but we expected it. We had a long and grueling season. I am happy that we managed to decide the destiny of the Champion league title by 2 games. We will celebrate with relaxing, and then there will be a very important match: Charie's farewell match, and the national team programme. It was a good decision to come home, now I got the gold medal in the Hungarian Cup and Hungarian Champion. In the next year we will do everything in order to come up with an outstanding performance in the Champions League and get to the Final Four.
Translated by Gergő Aranyi
Next match
Champions League
Dinamo Bukarest
Telekom Veszprém
Oct. 28. Thursday, 18:45
Last match
Hungarian league
Telekom Veszprém
36
Balatonfüredi KSE
29
Oct. 24. Sunday, 17:30