2021. Sep. 05. Sunday, 22:26
seha
PPD Zagreb - Telekom Veszprém 29-31
Veszprém started the game, Lékai was the playmaker, Yahia and Ligetvári the left and right back, Strlek and Marguc on the wings, Blagotinsek was the line player. The first goal was scored by Gasper Marguc. Cupara the goalkeeper and we made one change Sipos to Strlek. In the first 5 minutes there were only 5 goals, defense dominated both sides in the game. After Cupic penalty there were one goal lead to Zagreb. 3-2. Then Csaba Leimeter scored, 4-2. After Nenadic made some good movements and we equalized. But there were a few mistakes which Zagreb could easily punished and it was 8-6. Suspensions on both sides, and after Nenadic's stolen ball we equalized, 8-8. Our defense was really good in this period, so we could play fast game, it worth a lot 2 min suspension for Zagreb and we took the lead 10-11. After Gasper Marguc's goal 10-12. Then Maqueda change Yahia, first he scored 2 goals, 11-14. Mahé came in. The last minute of the half seemed a little caotic. After Zagreb's penalty in half time: 13-15.
We started the second half with Cupara's save and two Yahia goal. 13-17. Then we made some mistakes in attack and Zagreb came closer 16-17. Yahia goals in this period, we held 2 goal lead 18-20. Then Petar Nenadic scored a fantastic goal, 18-21. Mahé was the playmaker, Yahia and Nenadic the left and right back, Manaskov and Marguc on the wings, Nilsson was the line player. Cupic made good movements in the Zagreb team, after a few goals, on 22-24 the result was freezed for 6 minutes. Zagreb made open defense, Momir Ilic took timeout immediately. Marguc missed a penalty, then Zagreb scored first, then Mahé answered, 23-25. The defense of the Zagreb getting tough and Ivic saves 3-4 100 % situation. Zagreb equalized, 25-25. Mahé scored a fantastic goal, 25-26. Yahia reached 2 minutes suspension for Zagreb, Nenadic scored a fantastic goal. The end was 27-27. Penalties came: Cupara started with a save, but after that Strlek missed the penalty, Cupara had to save another one, and he did. Petar Nenadic scored a last penalty and he closed the thriller with succes. Telekom Veszprém became the winner of the SEHA-GAZPROM League in 2019-2020 season.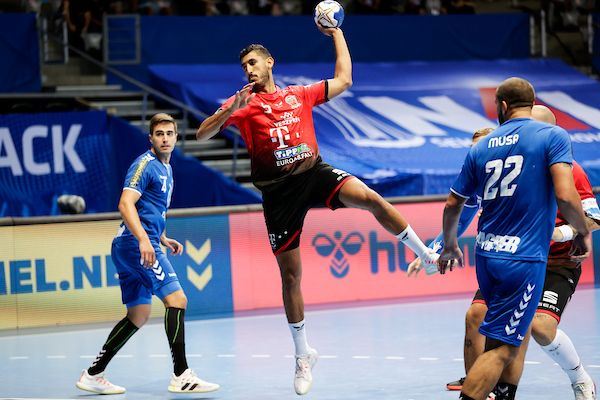 PPD Zagreb - Telekom Veszprém 29:31 (27:27) (13:15)

PPD Zagreb: Slavić, Ivić – Marin 1, Vistorop 7, Ćavar 1, Mandić 2, Klarica 2, Gojun, Slavic, Klis 3, Musa 2, Sirotić 2, Matanović, Cupic 5, Obranović, Leimeter 3, Grahovac 1.
Telekom Veszprém: Cupara, Corrales – Manaskov 2, Yahia 8, Nenadic 8, Maqueda 3, Nilsson 1, Ligetvári 1, Marguc 4, Strlek, Lukács, Blagotinsek 1, Mahé 3, Ilic, Lékai, Sipos.
Penalties: 6/8 ill. 6/8
2 min suspensions: 14 min ill. 6 min
Statistics:
/_user/file/kratka9919.pdf
Statements:

Momir Ilic

Of course I am very happy because of the victory, for me as a young coach this first title is really a special one. But also I want to congratulate the team of Zagreb and Ivica Obrvan coach also, they play a good match, a smart match. We exactly knew what they gonna play and how they gonna play and ... The end I am really satisfied with the victory, but not with the game. I know this is a clear situation and I hope we will play much much better but we need to analyze this match. I really have a lot of things in my head of this match, but when I wake up tomorrow I will be satisfied with this start, as a coach.

Omar Yahia

First fo all I would like to congratulate to all the team in SEHA_GAZPROM League F4. And also to PPD Zagreb. Of course Olympic games was a really tough tournament for me, but I feel good to be here with a team. We need more time to work completely, at full, 100% level. I am really satisfied to start the season with this win. I know that I am happy that even we aren't in our best form yet, but we are able to win in the end.
Next match
Champions League
Dinamo Bukarest
Telekom Veszprém
Oct. 28. Thursday, 18:45
Last match
Hungarian league
Telekom Veszprém
36
Balatonfüredi KSE
29
Oct. 24. Sunday, 17:30