2021. Mar. 24. Wednesday, 19:56
Hungarian Cup
Telekom Veszprém - Ferencvárosi TC 42:30
Telekom Veszprém – Ferencvárosi TC 42:30 (22:15)

Telekom Veszprém: Cupara, Palasics – Manaskov 4, Yahia 3, Tönnesen 1, Nilsson 1, Markussen 4, Ligetvári 1, Strlek 5 (2), Blagotinsek 6, Shishkarev 6, Mahé 3, Dörnyei 4, Lukács, Ilic 3, Lékai 1

Ferencvárosi TC: Bódy – Turák, Nagy 6, Ónodi Jánoskúti 5 (3), Imre 3, Parzer 1, Ludmán 2, Karai 3, Prainer 7, Szabados 3

Penalties: 2/2 and 4/3
Suspensions: 8 min. and 2 min.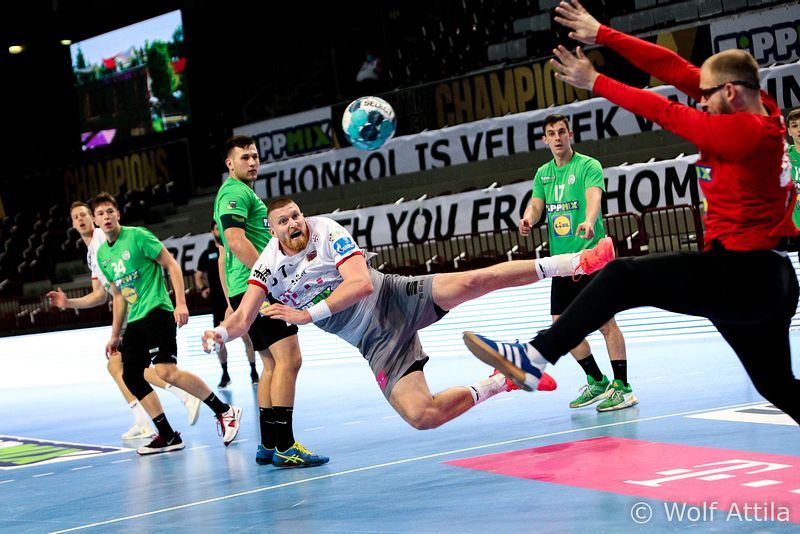 Telekom Veszprém met Ferencváros in the quarter final of the Hungarian Cup in the Veszprém Aréna. The guest team came with a completely youth team because of the virus and injuries. They scored the first goal, then Markusses answered back. The Danish giant got a 2 minutes suspension, from that Fradi built a 2 goals advantage. Veszprém equalized in the 7. minute with Strlek's goal (5-5). Veszprém practiced again the 5:1 defense formation. After 10 minutes play the guests scored 8 goals because of the mistakes made by Veszprém (7-8) Shishkarev scored 3 times in a row, Cupara made some saves and the guest had to call a timeout at 4 goals Veszprém lead (17. min 12-8). Both teams led nice attacks and scored in high efficiency (25. min 19-14). Építők reached 20 goals in the first half with Manaskov's goal. In the break the difference was 7 goals between the teams.

Also the second half started in high tempo and with many Veszprém goals. Nilsson got 2 minutes suspension, from that the young Fradi players scored goals. Markussen scored nice goals from long distance, he scored the 30. Veszprém goal (40. min 30-21). As the difference grew, Davis gave a chance to the youngsters of Veszprém. Ilic and Palasics made their season debut on this game. Ilic scored a nice goal, that meant the 10 goals difference for the first time. Blagotinsek was unstoppable, scored many goals by using his physical advantage. In the goal Palasics made some big saves and Veszprém scored its 40. goals by Dörnyei. Veszprém won the game what was rich in goals.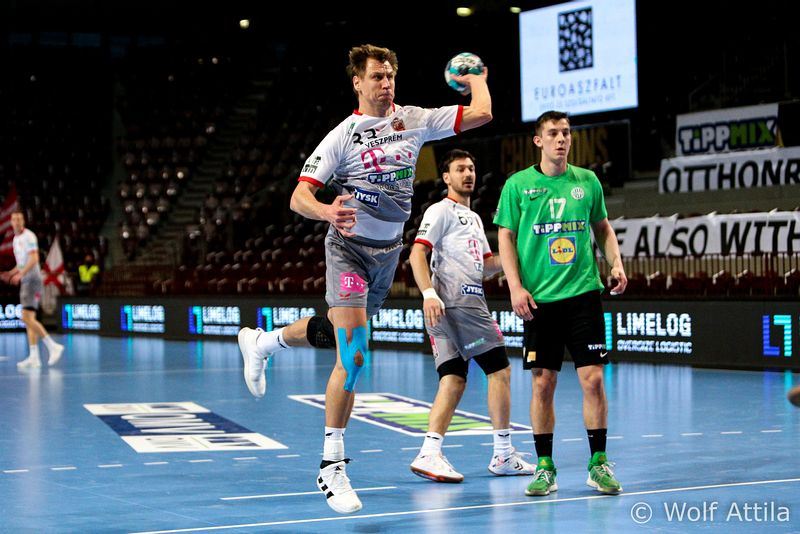 David Davis: I am sorry that we live in times like this, and Ferencváros had to come with their second team. They are having a great season, that is why it is a shame. I am satisfied with the team, just so with the young players coming up from the second team. Zoran Ilic sitting next to me helped the team a lot today.

Zoran Ilic: Congratulation to Fradi, we played a good game. I thank to the coach, that he gave us young players chance to play today. I wish all the best to Ferencváros.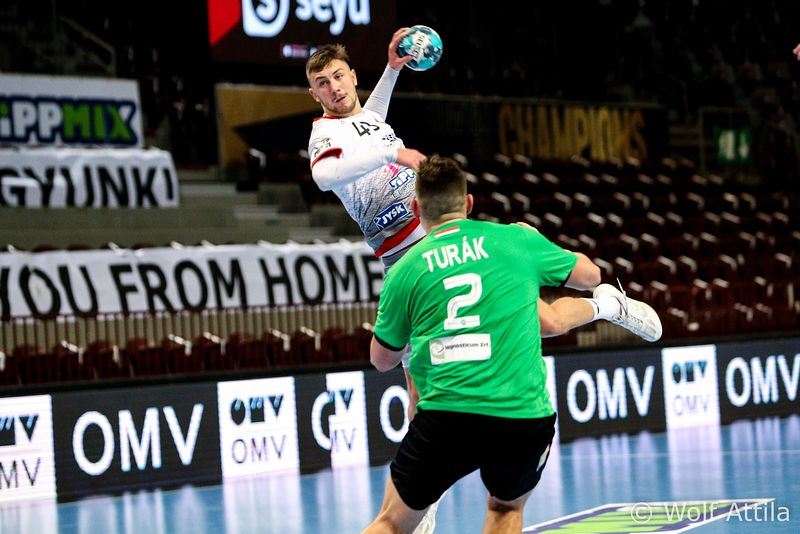 György Kiss: Congratulations to Veszprém for the victory and for the fair attitude. 90% of the team was made up of youngsters. We tried to stand our ground, and I think we managed to do that. We can leave with our heads held high. We scored 30 goals, and with a little bit more of a goalkeeper performance the result could have been closer.

Máté Ónodi Jánoskúti: Congratulation to Veszprém. Today's match was a good preparation for the weekend. We came here to play freed, I think we did it and we played a really good game.