2021. Jul. 26. Monday, 19:54
Telekom Veszprém started their preparations for the 2021/22 season with the first training session
Our squad is not yet complete, as four of our players are competing in the Tokyo Olympics, including Kentin Mahé, Jorge Maqueda, Rodrigo Corrales and Omar Yahia. Furthermore, we have two young players, Péter Lukács and Zoran Ilic, in the training camp in Balatonboglár, which is preparing for the U19 European Championship. They will join the team in the second half of August and will be involved in training and matches. The goal of the "Építők" is, of course, as always, to win every match, so we started working together in this spirit under the guidance of head coach Momir Ilic right after the briefing.
Our squad for the 2021/22 season is as follows:
Goalkeepers: Rodrigo Corrales, Vladimir Cupara
Left wings: Dejan Manaskov, Manuel Strlek
Right wings: Borisz Dörnyei, Gasper Marguc
Left backs: Patrik Ligetvári, Márk Bodor, Rasmus Lauge
Right backs: Omar Yahia, Jorge Maqueda, Ilic Zoran
Center backs: Máté Lékai, Péter Lukács, Petar Nenadic, Kentin Mahé
Line players: Andreas Nilsson, Adrián Sipos, Blaz Blagotinsek
Márk Bodor, our left back, is undergoing rehabilitation, coming back from a serious injury step by step, for which he will get all the tools and professional help at our club. As previously communicated, he will continue on loan at Grundfos Tatabánya as soon as he is fully healthy. Until then, he will be part of our squad, optionally and depending on the situation, he may even play a few match for us.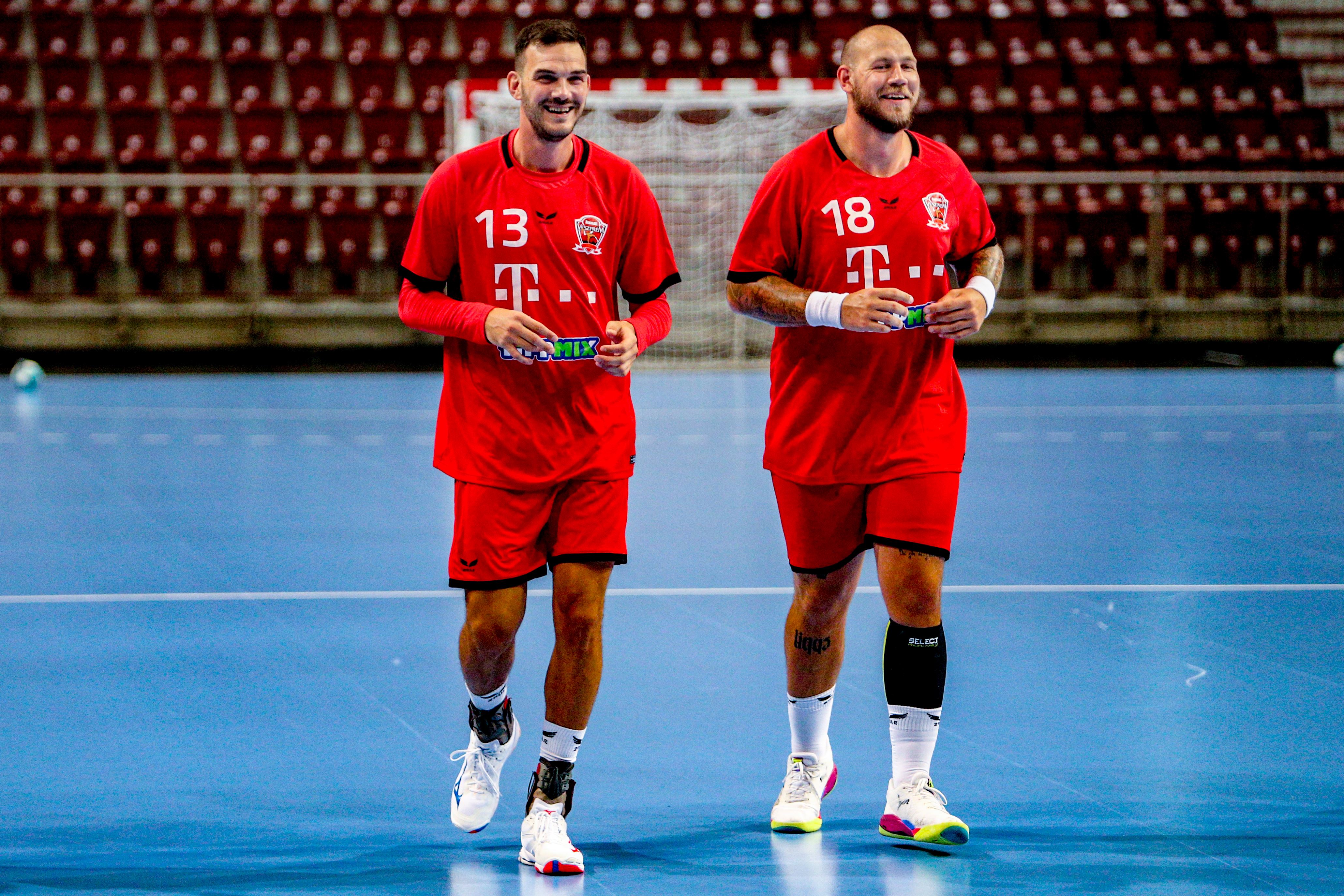 The present incomplete squad will be filled up by the dominant players of the U22 team of BFKA Veszprém, they will help the adult team in training. Field players Tas Szabó, Bence Dobi and goalkeeper Krisztián Mikler, members of the silver medal winning team of the second division championship last season.  
The first training session was held in a good atmosphere and the boys started their familiar moves with the joy of seeing each other again. Then, of course, there was a little game.
Let's go Veszprém, let's go "Építők"!
Next match
Champions League
Lomza Vive Kielce
Telekom Veszprém
Sep. 23. Thursday, 18:45
Last match
Hungarian league
FTC
27
Telekom Veszprém
30
Sep. 18. Saturday, 18:00