2021. Aug. 11. Wednesday, 15:45
Gasper Marguc
"The most important thing, is the club's success."
Our Slovenian right winger, Gasper Marguc, is on his 8th season here at Telekom Veszprém Handball Team. Feels like it was only yesterday, that Gasi scored his very first goal in Veszprém Arena. Now a bit later, a new, rising generation is copying his shots and movement. A real role model on and off the pitch.

In our interview, we shed light on where he gets his motivation from, his opinions on the upcoming season's challenges and what it feels like to win the Carlos Perez Award.

How was the summer holiday? Did you have time to rest during this longer period?

Yes, of course. I had time to clear my head, rest my body. We didn't travel anywhere far, my wife and I spent a little time in Croatia, other than that we were at home in Celje, Slovenia. Recently we couldn't spend much time with our close friends and family due to the pandemic, fortunately this summer we could make up for lost time.

This is your 8th season at Telekom Veszprém. Where does your constant motivation come from and what are your goals for the season?

Ever since I came to Veszprém, my goal has been to win everything possible, Hungarian Championship, Hungarian Cup, and of course the main focus has always been winning the EHF Champions League. The desire to win motivates me every year. We have an incredible team, we always have the potential to win, we were close before; it's not hard to find motivation in these circumstances. In our minds, we always set our goals at the beginning of each season and we'll do everything in our power to achieve these goals.

What do you think about Momo and Gulyi?

Every time a team's management changes, it's going to be difficult. We have only been working together for a little over a week. I know both of them really well as players, but a coach-player relationship is a completely different dynamic. We'll have to find our common rhythm and support each other. This is a learning process, but nothing substantial has changed regarding our goals.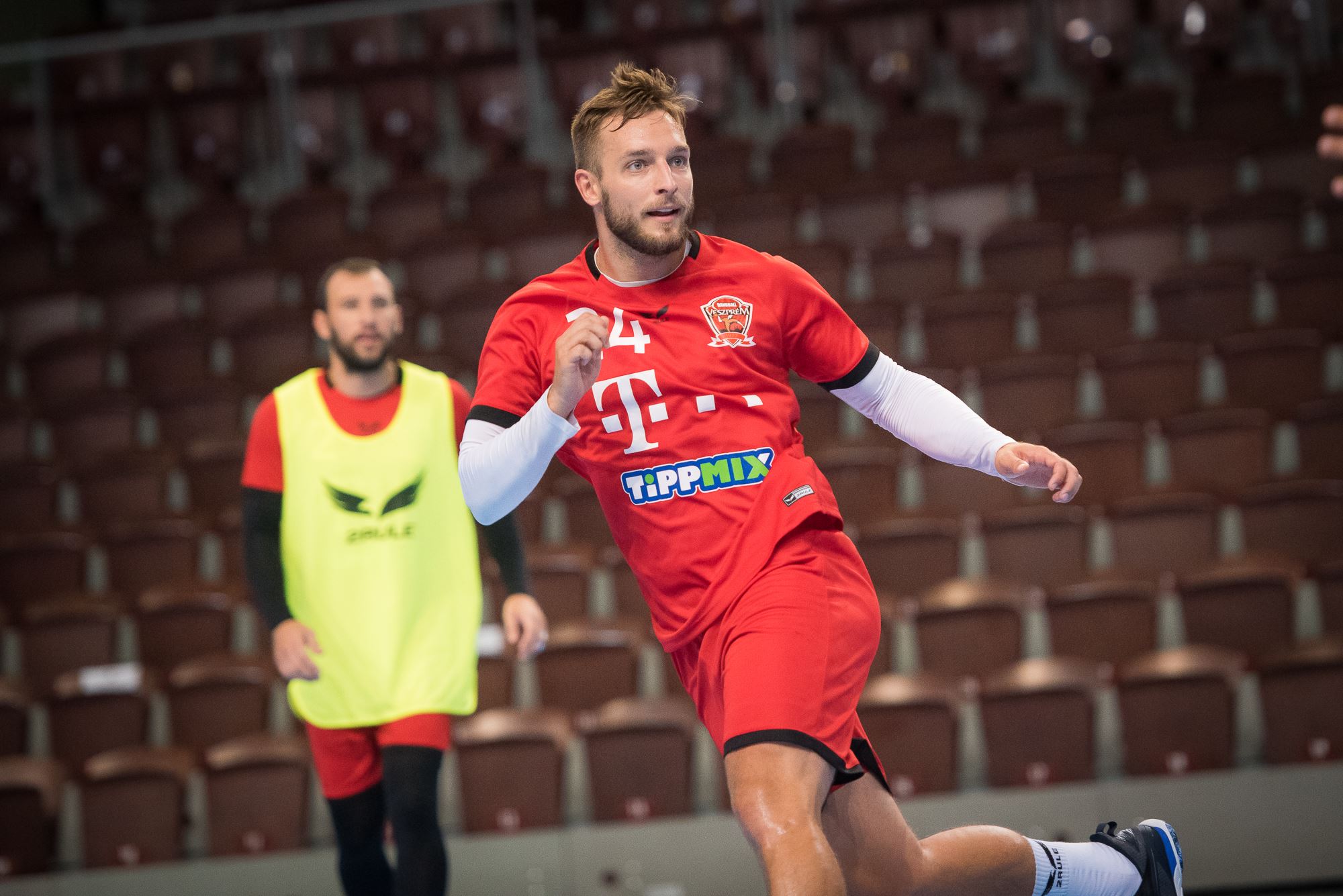 Different wingers, different techniques… who did you idolize when you were in your junior years?

One of my idols was Vid Kavticnik, mainly because of his Slovenian nationality. He made a move to THW Kiel at a very young age and he was around 18-19 years old when he won the best wing player award at the European Championship. Another one of my favourites was Mirza Dzomba. I loved his play style and shooting technique. If I had to mention two outstanding players, it would be them two.

Now, today's youngsters are copying your techniques and play style. What do you think about the young players in the team? You'll share your position and game time with Dörnyei Borisz.

I think this is a huge opportunity for them. In previous years, due to our club's high expectations, it was even harder to gain way into the first team. They're all very talented, they have been knocking on the door for some time now, joining our trainings at times, so it won't be completely new for them. Hopefully they'll develop even more, now that they're officially first team players. I'm sure that Borisz will get the opportunity to prove himself, as I won't be able to play a whole season all by myself; he's still young and has a lot to learn. Borisz and all the other youngsters have to treat each given game minute as an opportunity to be seized.

During last season, after scoring it was so evident from your facial expressions that you were extremely motivated and hungry for success. How do you plan to turn last year's "unsuccessful" season, into a positive motivating factor?

Naturally this is difficult. I was motivated, I always am. I might have had a good season, but in the end it didn't matter. This is not an individual sport; handball is a team sport! The most important thing is the club's success. Last year we didn't manage to reach our goals. We didn't have a bad season per se, but in May during the most crucial period where everything's decided, we didn't turn up. There were definitely positives which we have to bring with us to this season, but we know of our mistakes as well, and we have to work on them. It's never an ideal situation to lose, especially at home. But once again, the main goal is to reach our top form in April-May, in time for the most important games of the season.

This year the fans voted for you, to win the Carlos Perez Award? Thoughts?

It's an incredible honour, I want to thank everyone who voted for me and saw that I tried hard to fight for this team. I have been here for 8 years and winning this award means a lot to me. I wish we ended last season in a more successful manner, I'd be much more pleased if we could have paired my individual award with a team trophy.

Thank you for your time, Gasi! We wish you good luck and a whole lot of pinpoint passes to the wings this season!

Next match
Champions League
Dinamo Bukarest
Telekom Veszprém
Oct. 28. Thursday, 18:45
Last match
Hungarian league
Telekom Veszprém
36
Balatonfüredi KSE
29
Oct. 24. Sunday, 17:30