2014. Nov. 18. Tuesday, 10:15
This happened in our CL group
The MKB-MVM Veszprém strenghtened its position at the head of the Group C, as on Saturday, away, in a strained game they defeated the Vardar Skopje (standing at the second place) and with this they increased their advantage with 3 scores. 
More information about the match can be found in our previous article:
http://www.mkb-mvmveszprem.hu/hc-vardar-skopje-mkb-mvm-veszprem-kc-2324_1951
The following part of the article is a brief summary about the other two matches oft he Group C.
Rhein-Neckar Löwen - Celje Pivovarna Lasko 31:27 (13:15)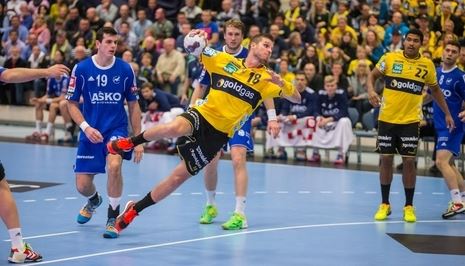 The home team started well, but the visitor team pitched in on time and took the lead. This happened due to the weak attacks of the Löwen, which the Slovenians punished with easy goals. The German team could close the first-half of the game with two fast break goals in the end. With this they slightly reduced their disadvantage. In the second part of the match the hosts changed to a 5-1 defense, which turned out to be successful, but they still had problems in the front. Then Landin's time has come. His virtuosity and his performance in Petterson's attack amazed his team and also the public in Mannheim. Altough the Celje could improve its position to a one-goal difference, in the end game the will of the Löwen succeeded and this meant a four-goal victory.
Scorers:
Löwen: Petterson 7, Gensheimer 5, Guardiola Villaplana and Schmid 4- 4, Ekdahl du Rietz and Myrhol 3-3, Sigurmannsson 2, Groetzki, Larsenés Reinkind 1-1
Celje: Zarabec 5, Ivic and Janc 4-4, Blagotinsek, Sliskovic and Zvizej 3-3, Miklavcic and Razgor 2-2, Poteko 1
Montpellier Agglomeration - Chekhovskie Medvedi 32:32 (15:14)
The Montpellier was the possible winner of the match, since they hosted the Medvedi, which had no scores at all in the group. But at the same time the French had to play the match without their three Slovenian key players. Neither Matej Gaber nor Jure Dolenec and Borut Mackovsek was able to participate. But there were still available Slovenian classes in the selection. Gajic and Kavticnik were the leading goal scorers in the first-half, but the visitor team could catch up especially due to Dimitry Kovalev and Sergey Shelmenko. In the second-half  the success of the Medvedi continued due to Alexander Dereven. The teams came to the finish shoulder to shoulder. Eight seconds before the end the Russians were in a one goal advantage, when Gajic  scored a goal and saved his team from the defeat.
Scorers:
Montpellier: Kavticnik 10, Gajic 9, Simonet 4, Tej 3, Grebille 2,Gaber, Guigou, Gutfreund and Saidani 1-1
Medvedi: Kovalev és Shelmenko 8, Dereven 6, Zhitnikov 5, Chernoivanov 2, Andreev, Kotov and Ostashchenko 1-1
The actual position of our group can be  found here:
http://www.mkb-mvmveszprem.hu/2014-2015-tabellak
Combinations of the next round:
22.11.2014
MKB-MVM Veszprém – Vardar SKopje
22.11.2014
Chekhovskie Medvedi - Montpellier Agglomeration
23.11.2014
Celje Pivovarna Lasko - Rhein-Neckar Löwen
Next match
Champions League
Dinamo Bukarest
Telekom Veszprém
Oct. 28. Thursday, 18:45
Last match
Hungarian league
Telekom Veszprém
36
Balatonfüredi KSE
29
Oct. 24. Sunday, 17:30